2023 Nissan Leaf vs 2023 Mini Cooper Electric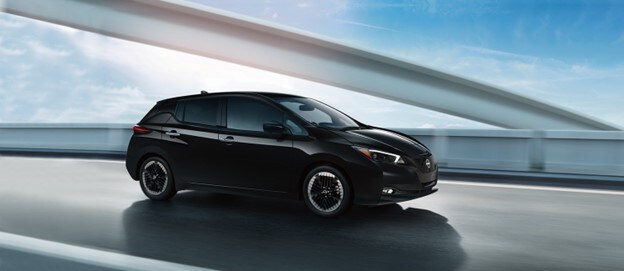 2023 Nissan Leaf vs 2023 Mini Cooper Electric
An electric car can be the perfect companion for the single driver if you find the right one. The ideal EV would have a large capacity, quick charge times, and a small frame making it easy to zip around on a busy schedule. For the fast-paced individual, the Nissan Leaf and Mini Cooper Electric are fantastic choices. However, one comes with better hardware and a more comfortable ride. The friendly team at Maus Nissan of Brooksville is here to compare the specs between the new 2023 Nissan Leaf and the 2023 Mini Cooper Electric. Don't forget to check out our new inventory online!
2023 Nissan Leaf vs 2023 Mini Cooper Electric
When it comes to electric vehicles, mile range and charge times are everything. The whole point is to reduce the number of trips to the gas station, so the farther you can go and the sooner you can get back on the road after charging is what defines a great EV. In that aspect, the new 2023 Nissan Leaf beats the Mini Cooper Electric by a long shot while also offering plenty of high-tech safety features and a cozy cabin.
Performance
Nissan was already ahead in the game when they originally released the Leaf, and their design team has been making noticeable improvements with each new model. Currently, the 2023 Leaf has up to a 212-mile range and a combined 121 MPGe. Drivers have the option of going with a 40 kWh model or the upgraded 60 kWh battery for 214 horsepower. Either way, the Leaf is equipped with a large lithium-ion battery that's located along the bottom of the vehicle. This allows the Leaf to be weighed down for smooth handling and a lower chance of rolling over after sharp turns. You can barge your Leaf using 3 different charger types with the fastest being the 480V quick charger. Nissan also takes regenerative braking to a new level with the e-Pedal which supports one-pedal driving.
The new Mini Cooper Electric comes equipped with a less powerful 28.9 kWh battery only capable of 181 horsepower. You'll only get a maximum of 110 miles compared to the Leaf's 212 miles which is a significant difference. So when you break it all down, the Mini Cooper Electric has less power and fewer miles, making for a less-than-practical EV.
Safety Features
Every new Nissan vehicle comes with standard safety features, and that includes the new Leaf. Six features come standard including Automatic Emergency Braking with Pedestrian Detection, Rear Automatic Braking, Rear Cross Traffic Alert, Blind Spot Warning, Lane Departure Warning, and High Beam Assist. But if you want more tech, you can choose to include additional available features like:
●       Intelligent Around View Monitor
●       Intelligent Forward Collision Warning
●       Intelligent Blind Spot Intervention
●       Intelligent Lane Intervention
●       Intelligent Driver Alertness
The Mini Cooper Electric also comes with standard safety features like Forward-Collision Warning, Automated Emergency Braking, Lane-departure Warning, and Pedestrian Detection, but those are the only notable features. When it comes to advanced and intuitive technology, the Nissan Leaf is the clear winner.
Interior
The new Leaf is designed to be driver-centric with many assets that provide maximum comfort and accessibility. All of the basic controls are located in the center console where it's reachable for ease of use. You can even avoid the controls altogether by utilizing voice commands. There are available heated front seats, steering wheels, and mirrors to make things easier during the colder months. Automated temperature control will also help you achieve an optimal atmosphere. The driver display is fully customizable, and you can access your media from the 8-inch infotainment screen. The cargo situation is also very impressive with a maximum of 30 cubic feet of flexible storage space.
You'll find the most basic features inside of the Mini Cooper Electric such as heated seating and steering wheel and an automatic temperature control system. The digital gauge cluster isn't customizable like the one in the Leaf, but the infotainment screen is slightly larger at 8.8 inches. But when considering everything else that the Leaf can do, the extra .8 inches doesn't quite make up for it.
Bottom Line
In addition to giving you a better all-electric experience, you're also covered under many warranties when you buy the Leaf. The starting price of the Leaf is already less than that of the Mini Cooper Electric, but these amazing warranties provide an even greater value.
2023 Nissan Leaf Warranties
| | |
| --- | --- |
| New Vehicle Limited Warranty Basic Coverage | 36 months or 36,000 miles |
| Powertrain and Electric Vehicle System Coverage | 60 months or 60,000 miles |
| Lithium-Ion Battery Coverage | 96 months or 100,000 miles |
Take the 2023 Nissan Leaf for a Test Drive!
Call Maus Nissan of Brooksville today at (352) 423-6287 for more information on the 2023 Nissan Leaf! Come down anytime and we'll gladly show you around the lot, or you can view our new inventory online at any time.