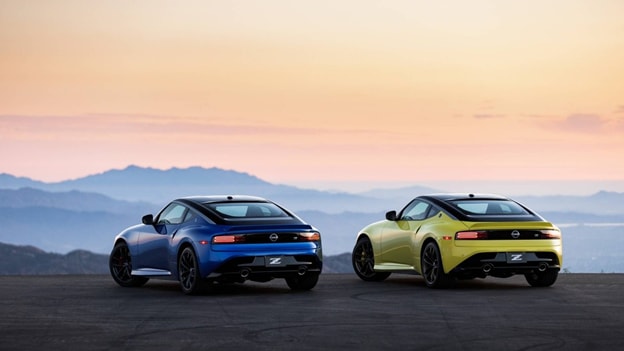 2023 Nissan Z vs. 2022 Toyota Supra
High-performance sports cars are making a comeback with so many companies debuting their biggest, flashiest models worthy of smokescreens and pyrotechnics. With so many to choose from, where do you even begin to look? The 2023 Nissan Z and the 2022 Toyota Supra are a couple of the best options right now, but which one's more likely to get first place on the track? The enthusiasts at Maus Nissan Brooksville have gathered the specs just for you!
2023 Nissan Z vs. 2022 Toyota Supra
Both the 2023 Nissan Z and the 2022 Toyota Supra are worthy of having a spot on the starting line, but who will take home the gold? The Nissan Z is already showing a lot of promise, and it's going to take the Supra a lot to catch up.
Performance
The engine specs for the 2023 Nissan Z are enough to make your hairs stand up just thinking about it. Its Twin-Turbo V6, 24-valve engine is capable of pumping out an incredible 400 horsepower! The energetic feel of this powertrain is enhanced by placing the engine towards the back of the chassis for greater balance and suspension that makes you feel even closer to the road. The Nissan Z can achieve 220,000 rpm which will have you superglued to your seat.
A few more upgrades in the 2023 Nissan Z include:
●       New synchros for better power handling
●       Limited-slip differential for optimized power distribution
●       Electric power steering for dynamic turns
●       New monotube shocks and rear suspension tuning
●       Available launch control for stable acceleration and zero wheel spin
●       9-speed automatic transmission with shift-by-wire
The Toyota Supra falls a tad short in power with its 3.0-Liter Turbocharged Inline-Six engine supporting only 382 horsepower. And while the Nissan Z has a 9-speed automatic transmission allowing for more driving styles, the Supra only comes in 8-speed auto.
Safety Features
The Nissan Z comes with a load of driver-assist and safety features to help keep you in check as you test the limits of its power, such as:
●       Automatic Emergency Braking with Pedestrian Detection
●       Intelligent Forward Collision Warning
●       Blind Spot Warning
●       Rear Cross-Traffic Alert
●       Lane Departure Warning
●       High Beam Assist
The Toyota Supra also has a good handful of driver-assist technology like:
●       Pre-Collision System with Pedestrian Detection
●       Lane Departure Warning with Steering Assist
●       Automatic High Beams
●       Speed Limit Information
However, some of the more useful features only come as available options like front and rear parking sensors, blind-spot monitor, rear cross-traffic alert, and dynamic radar cruise control.
Interior
Nissan is proud of their Z model and it shows in the amount of thought that they placed in the interior design. The seats are lined with an anti-slip material and there's special padding in the lower cushion along with knee bolsters to help keep you in place during high speeds on top of providing lateral support. When it comes to technology, the Nissan Z has an available 9" infotainment touchscreen with Door to Door Navigation, Wi-Fi Hotspot, and Remote Access to give you ease of access through every step of the way.
The Supra also comes with sports seats, as is the requirement, and they're aligned with knee pads that are attached to the center console. That's about all you get for seating support, and the navigational touchscreen is a slightly smaller 8.8" monitor.
Bottom Line
If you're wanting a powerful sports car with optimal comfort and technology, the 2023 Nissan Z is definitely the way to go. The 2022 Toyota Supra is still a decent choice but it just doesn't match what the Nissan Z has to offer.
Pre-Order the 2023 Nissan Z Today!
If you want a piece of the action, get your 2023 Nissan Z on launch by getting on the waitlist. Call Maus Nissan of Brooksville today at (352) 423-6287 to find out how!