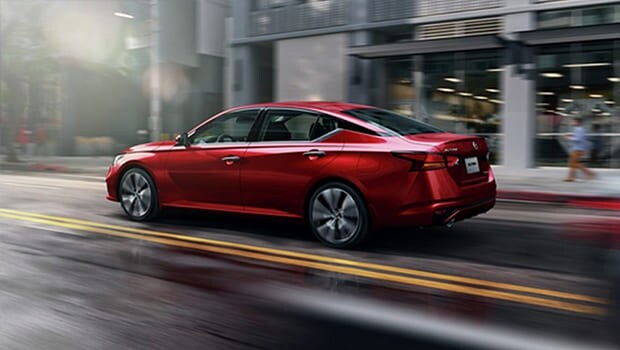 No matter what type of vehicle you're looking for, from family sedans to trucks, compact cars to full-size SUVs, safety is the top priority. While plenty of horsepower, gorgeous looks, and a premium interior are all nice to have, at the end of the day, safety is the one thing you can't sacrifice. If you're searching for a new vehicle that has all the safety features you're looking for, you can't go wrong with a Nissan.
Nissan's long been a leader and innovator in terms of safety technologies. Many new models come standard with the automaker's impressive Safety Shield 360 system, a full suite of technologies that deliver peace of mind every time you get behind the wheel. Here's a brief rundown of some of the fantastic features you'll find in the Safety Shield 360 system.
Blind Spot Warning
No vehicle is completely free of blind spots, making passing—especially on the highway—a challenge. Luckily, Nissan's Safety Shield 360 includes an important piece of safety technology—Blind Spot Warning. This function checks the areas where it becomes hard to see other vehicles alongside your own. It provides a clear warning when vehicles are present in blind spot areas, so you can drive and pass with confidence.
Intelligent Emergency Braking
Nissan's Intelligent Emergency Braking system helps drivers avoid crashes by notifying them when the potential for collision is detected. Based on the distance you're driving from the vehicle in front of you, the alert indicates that it's time to slow down. It also automatically engages the brakes, helping you avoid a crash or reducing the impact if a collision is unavoidable. Some models also include Pedestrian Detection, stopping the vehicle if the system detects a pedestrian is crossing in your path of travel.
Lane Departure Warning
Whether you've glanced to the side to view approaching vehicles or you're distracted by kids, pets, or other passengers in your vehicle, it's all too easy to drift out of the lane you're driving in. Nissan's innovative Lane Departure Warning feature uses haptic feedback in the steering wheel to determine if you're drifting and provides an alert so that you can quickly and easily correct your driving.
Rear Cross Traffic Alert
Have trouble backing into driveways or parking spaces? Nissan's Rear Cross Traffic Alert feature can help. While you're in reverse, this feature monitors the area behind and to either side of your vehicle. When the system detects vehicles or objects passing behind you, it gives you an alert so that you can avoid a collision as you back out.
Experience Peace of Mind with Nissan's Safety Technologies
The innovative features detailed above are just the tip of the iceberg when it comes to all the safety technologies you'll find in many new Nissan vehicles. Whether you're looking for the perfect vehicle for your morning commute or a full-size SUV that accommodates the whole family, you can count on the safest ride possible when you choose Nissan. Stop by Maus Nissan of Brooksville today or give us a call at (352) 423-6287 to learn more about Nissan's innovative safety features.