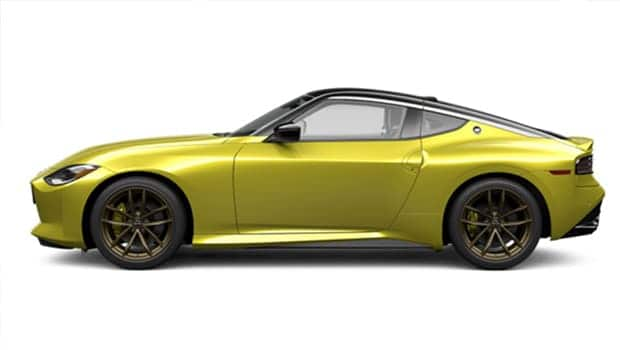 Over the years, Nissan vehicles have become synonymous with consistent reliability, exceptional safety ratings, innovative designs, and so much more. The automaker's reputation for making value-packed, affordable cars is as strong today as it was during the company's early years. Today, Nissan's still setting the standard for affordable, capable automobiles—and they have big plans for the 2023 model year across their entire vehicle lineup. Here's a sample of what's new for Nissan in 2023.
An All-New All-Electric Vehicle
The introduction of the all-new Nissan Ariya is one of the most exciting developments for the 2023 model year. The second all-electric vehicle in Nissan's lineup, the Ariya offers a choice of standard- or extended-range batteries, delivering a maximum driving range of up to 304 miles. Tons of driver-assistance tech comes standard on the Ariya, including Nissan Safety Shield 360 and ProPilot Assist with Navi-link.
Updates to the Leaf
While the all-new Ariya is getting plenty of attention, Nissan's still making changes to its more established EV, the Leaf. For 2023, the automaker refreshed the car's exterior with an all-new design on both the front and rear end. There are also new brand logos inside and out, along with a gorgeous new 17-inch alloy wheel design on the SV Plus trim.
An Off-Road Capable Crossover
While the Nissan Pathfinder remains mostly unchanged following a complete overhaul in 2022, there is one notable change to Nissan's popular midsize crossover—the introduction of an off-road-capable model.
Nissan's introducing the Rock Creek trim level for the Pathfinder, and it's full of features and upgrades that off-road enthusiasts will love. From specialized off-road suspension to 18-inch beadlock-style wheels with all-terrain tires, a tubular roof rack to a heavy-duty tow hitch, drivers will have no trouble hitting the trails or the pavement in this incredible SUV.
A More Aggressive Altima
The Altima is Nissan's second-most-popular vehicle, and it's getting an impressive facelift for the 2023 model year. This reliable midsize sedan receives a refreshed front fascia, a new brand logo, an updated V-motion grille, and other aesthetic upgrades. There are also two new, gorgeous paint colors to choose from: Garnett Pearl Metallic and Gray Sky Pearl.
A Refreshed Sports Coupe
Nissan's legendary 2-door, 2-seat sports coupe is back in a big way for 2023. The all-new 2023 Nissan Z is available in Sport or Performance trim levels, and it's powered by an impressive 400-hp, twin-turbo 3.0-liter V6 engine. The coupe features impressive exterior updates while retaining its trademark long hood/short deck aesthetic.
Experience the Latest Nissan Features and Innovations at Maus Nissan of Brooksville
Whether you're looking for a sports coupe with plenty of pep or an off-road capable, family-friendly SUV, you can't go wrong when you choose Nissan. Want to experience some of the automaker's most impressive updates and features firsthand? Stop by Maus Nissan of Brooksville today or give us a call at (352) 423-6287 to discover everything that makes Nissan's entire vehicle lineup so special.